With sweet tones and exclusive designs, an acoustic piano sure has a place in our hearts. The history of the piano itself speaks volumes about its craftsmanship. In the 1700's Bartolomeo Cristofori invented the piano that played louder and had a higher range of notes than the Harpsichords of the era. The result was an instrument designed specifically for music enthusiasts who wanted a higher range of notes, have control over keys, and enjoy warm melodious tones.
These are a few of many important attributes of an acoustic piano, and to help you decide, we have listed out three main benefits of owning an acoustic piano.
Authenticity
No other instrument produces sounds and warm tones like an acoustic piano. It is the complex structure and the thousands of moving mechanisms that helps create harmonious, rhythmic tones with higher and lower frequency.
In a piano, there are  88 notes of the musical scale, offering an incredible unparalleled range.
The union between strings and hammers that produces beautiful piano tones. Whether you want a loud, soft, or warm tone, this is determined by how hard you hit the key. Even the most advanced digital pianos cannot replicate the same rich sounds and feel of the keys.
In other words, no other type of piano can produce resonance sounds like the acoustic regardless of price.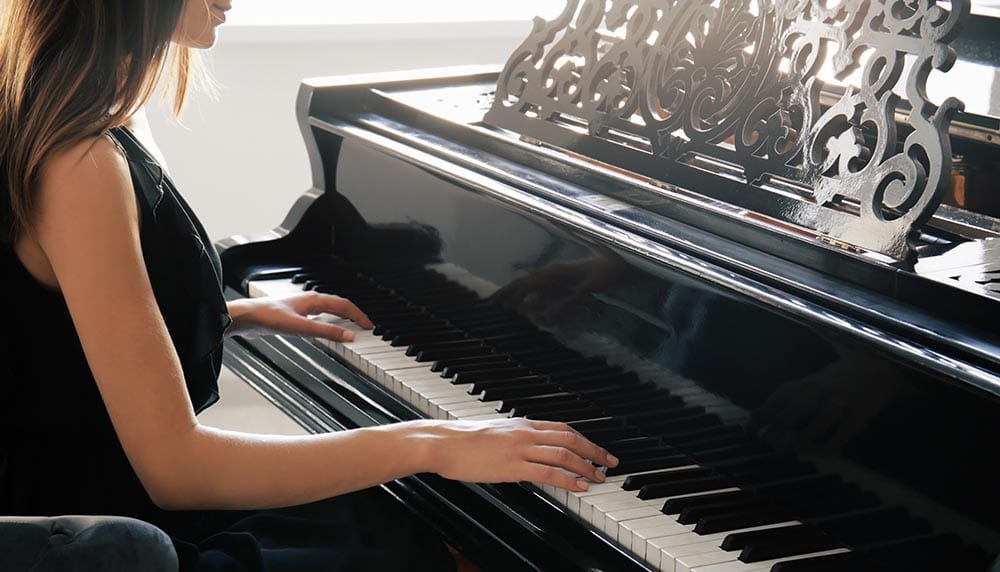 Good for Beginners
Acoustic pianos are a perfect fit for any budding classical musician, especially if they are planning to perform on stage or in practical exams.
With its 88 keys, the piano offers an incredible range of extremely high to the end of low sounds for the beginners who are learning about scales, finger spacing and strengthening.
Additionally, the touch-sensitivity of an acoustic piano will allow you to play more classical tones which is generally required for the music examinations in Australia.
This is also the reason why most piano teachers recommend learning on the acoustic piano. It helps a new learner to gain better control over the keys and the articulation of the tones, which are essential components to learn the piano.
Ultimately, if your goal is to be an advanced pianist, then the acoustic piano is for you.
Another point to note is that many people gravitate towards acoustic piano lessons for small children. Simply because once you have aced it, learning any other instruments can seem like a piece of cake. Pianos make a great foundation and a starting point for any musician.
Long-term Investment
Unique tones and handmade aesthetic designs by the finest artisans are the reasons that make this grand instrument worth your investment.
From high-quality wood to top-grade spruce, the finest materials go into the making and the reason why the piano lasts a long time and is more durable. A good quality acoustic piano can last up to 50 to 100 years, depending on how well you maintain it. If they are well managed, it serves as a life-long companion and can be passed down to generations.
Despite the higher price range, an acoustic piano is the first choice by most musicians. The sweet authentic tones are incomparable to any of its counterparts.
Buying an acoustic piano is a big commitment, but if any of the listed reasons and benefits align with your piano needs, then look no further. Depending on your budget and space, you can find a range of Acoustic pianos to suit your needs.
At the Pianoforte, our expert team is always on hand to help you find your dream acoustic piano. We've been Sydney's leading experts for the last thirty years and have satisfied clients throughout the greater Sydney region including Chatswood, Seven Hills, Parramatta and their surrounding suburbs. With our Chatswood store open Monday to Saturday and the Seven Hills store open on Saturdays, it's easy to contact us or pop-in for a visit.