Whether you're a beginner or pro pianist, a digital piano's features and benefits make a great alternative to an acoustic piano.
Digital pianos use synthesised or in-built piano sounds which are precisely designed to recreate the feel of an acoustic piano.
In comparison to the traditional piano, they are also smaller in size, less expensive, and there are many other benefits why piano enthusiasts are turning to a digital piano.
No Maintenance
Digital pianos are free from hammers and strings. As an alternative to an acoustic piano, they use either a synthesized emulation or recorded sounds of the acoustic piano. It's a high-level digital sound technology programmed in that recreates the feel of an acoustic piano.
Compared to acoustic pianos, a digital piano is low maintenance. Since they are free from strings and hammers:
They don't require any tuning or regulation from a professional tuner.
Play the piano without worrying about keys going out of tune.
You don't need to worry about humidity or heat affecting your instrument
Lower Cost of Ownership
From the moment that you purchase your digital piano your cost of ownership is significantly decreased.
Their lightweight and compact size means that transport and installation costs are significantly reduced and/or with the right vehicle and helpers could be eliminated altogether.
The key cost saver though is the elimination of the ongoing tuning and service costs associated with their Acoustic and Grand piano counterparts.
So, if you are on a tight budget, or simply just want a maintenance free piano, then digital is the way to go.
Saving Space
Digital pianos were invented for several reasons such as making them more compact in size and lighter than traditional Acoustic and Grand pianos.
These compact designs allow them to occupy less space making them well suited to virtually any living space be it a studio, small apartment or a house. you can easily fit them into any corner of your space.
Being lightweight, they have the added benefit of being easy to move around within the home or hassle free transportation between locations.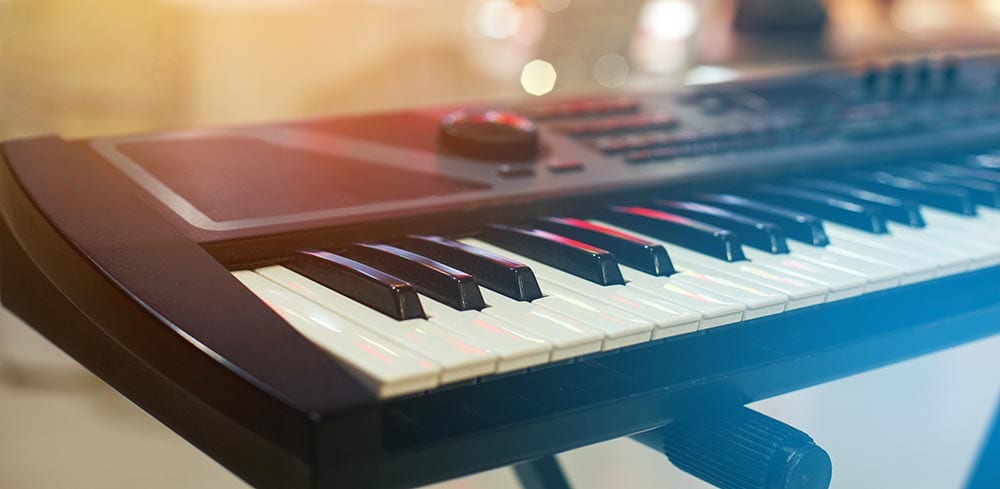 Silent Use
Imagine playing your piano in silence without distracting others in your household. With a digital piano, you also have an added benefit of practising with your headphones. You can plug them in and practice your sessions in peace and play the piano at any time of the day or night.
With a traditional piano, the volume of the notes is generated by how hard you strike the keys. Whereas with a digital piano, you can adjust the volume of the piano's speakers. An essential feature for those living in shared space.
Variety of Features
There are several functionalities a digital piano offers that makes it a great fit for a musician of any age and calibre.
Different Instrument Sounds
A digital piano can emulate several other sounds, making it an extremely versatile instrument. From synth sounds to electronic organs to harpsichord, there are hundreds of other instrument sounds and tones to help you produce and experiment with your music composition.
Control Your Beat and Tempo with Metronomes
Playing a piece to its original pace and the rhythm is crucial for any pianist. This is where a built-in metronome comes handy. A Metronome can be set to any speed and tempo which helps beginners master their piano playing skills.
Record Your Music and Performance
A digital piano also enables you to record in a variety of audio formats. So, whether you're a professional or beginner, you can easily record and listen back to your performance.
Use Interactive Bluetooth Apps
The Bluetooth connectivity feature enables you to connect your smartphone or other device to your digital piano. This way, you can download apps to help learn different compositions. This functionality serves as a great use to practice different types of music theories and further improve your playing skills.
Computer Connectivity
One of the most important benefits of a digital piano is its ability to be connected to any windows or mac computer. Particularly important for composers looking to record and transfer files onto computers for further mixing, sharing it on social media or simply for self-evaluation.
Owning the Right Digital Piano
There are many brands of Digital Pianos to choose from that offer a wide range of functionalities, features and that don't compromise on quality. If it's aligning with your goals and needs, then a digital piano is the way to go.
From a plethora of digital pianos, let the team at Pianoforte help you pick the best one for you. We've been Sydney's leading experts for the last thirty years and have satisfied clients throughout the greater Sydney region including Chatswood, Seven Hills, Parramatta and their surrounding suburbs. With our Chatswood store open Monday to Saturday and the Seven Hills store open on Saturdays, it's easy to contact us or pop-in for a visit.