Description
---
EXUDES COSMOPOLITAN GLAMOUR. AVAILABLE WITH THE MAGIC STAR SILENT PLAY FEATURE.
Name  | Romance Contemporary
Model | JS121MD
The complete piano.
Ideal for teachers, beginners, intermediate and advanced students alike.
An excellent choice for parents wishing to invest in a piano that will carry their child right through to higher examinations and performance preparation if desired.
Perfect for households requiring a piano to suit a number of family members at different playing levels.
Comes with Lifetime Warranty*
---
---
MAGIC STAR – SILENT PIANO MODULE
The Magic Star Silent Piano is a system that allows you to play your real acoustic piano silently through headphones. You can practice on your  acoustic piano at any time of day and night without disturbing those around you!
The inclusion of two stereo headphone jacks allows parents to sit alongside and listen to children practice, or two children to play the piano together without disturbing anyone. Easily change between acoustic piano and muted piano by moving a small lever under the keyboard.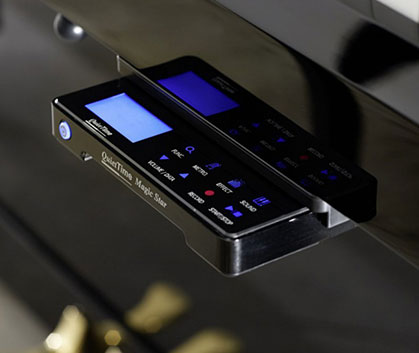 ---
AVAILABLE FINISHES
Magic Star only available in Ebony Polish.
---
* Conditions apply.
The colours and finishes shown may vary from those on the actual products. All prices listed in Australian dollars. Prices include GST and are recommended retail prices only. Delivery and set-up are additional. Please talk with your closest dealer for a full package quotation and availability.